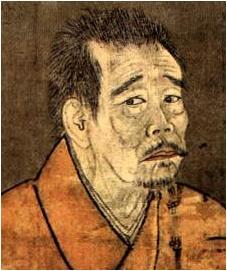 link via justin, image via Wikimedia Commons
toyokan towers on guard in the fog. Taken on June 1st, 2009.
浜頓別の伽藍にけさぼくはいた。座禅は面白い。加藤先生はぼくに本のプレゼントをあげました。加藤先生どうも。
Woke up in time today for the twice-monthly 6 AM zazen session at our local temple. Zazen is a form of meditation and life attitude that is most closely tied to buddhism, but is really religion independent and open to anyone.
The way these work is you show up a little before 6; at which time the temple has the sort of peaceful, bordering on holy serenity that any building has at that hour or in the morning.
Remove your shoes at the entrance and then your socks too, before you enter the main room. Immediately after entering you're supposed to bow and then walk with your left hand in a fist near your sternum and and your right hand wrapped around the outside of it.
Walk to a pillow and bow again to the room and anyone else who may already be there. Then, turn towards your pillow and bow one more time, before sitting in your meditational position. Pro's use the lotus, amateurs like me stick to seiza.
At least those are most of the steps you are supposed to complete in roughly the correct order.
At 6 the monk walks silently into the room and rings a bell.
Then it's just you, your thoughts and whatever pain creeps into your leg in the next 45 minutes.
Ideally I believe you're supposed to have a clear "mind like water" type deal and "let go." I'm not quite there yet, but I still find the time worthwhile though I could not really articulate to you, why.
Afterwards the monk rewards you with matcha – the best tea I've ever tasted – accompanied by some sort of sweets. Today it was anko. It's almost as good as mom's snack she made for you when you got back from grade school.
An interesting twist that quite surprised me was that smoking in that room and everywhere except the main room in the temple is daijoubu, or OK. That blew my mind.
The other morning meditator left fairly quickly for his reasons, so that left me alone for a while to converse with the monk. I asked him what age he became a monk, he said something about studying something in college but not finding his heart in it and then starting his training at age 23 at Eiheji, the "Temple of Eternal Peace."
Then, he hobbled into another room [he's been in and out of hospitals for months now with foot problems] he came back with a book written partially in English about the Temple with pictures.
As I was looking through the shots of exactly what I'd imagine a zen temple to look like he came back with another older book about the same temple, that featured a shot of him as a young man.
He said the men in training get up every morning around 4. Mediate for an hour, do work for two hours and then eat breakfast. They were only allowed to talk during certain specific break times, but not at morning or night. He did this for three years from ages 23 to 26.
Seeing I was interested in reading more about the temple, he said I could keep the book.
It has this entry about his temple's founder Zen Master Dogen.
He "lost his mother at the age of 8. With the awareness of impermanence he became a Buddhist monk at Yokawa of Mt. Hiei when he was 13 … at 24 years of age he went to China … at Mt. Tien-tung [he] attained his enlightenment … In 1227 he returned home … It was 1244 when he built a temple called Daibutsuji and later changed the name of this temple to Eiheiji … the Eiheiji now has 15000 daughter temples and 8 million laities."
If you're interested in more information on the temple, I found this video insightful.[youtube=http://www.youtube.com/watch?v=HDuePyaEBFc&hl=en&fs=1&rel=0&border=1]