17:43 on 5 July 2011
CTA Bus 73 heading North
Today Jeffrey and Ashley were kind enough to let an old fart hang around with them. Following a delish "hot n'wet" [sic.] lunch (hat tip to the bro on the restaurant choice and for punking me in public when I suggested we go sit down, insisting instead we stand, to which I agreed), I did the old person thing and took 'em to a museum.
Thx to Mom I knew Chicago's acute Museum of Contemporary Art, or MCA, is free on Tuesdays.
Whilst there I was particularly impressed by the artist they showcased on the first floor:
Mark Bradford
(Cf. links to exhibition site, "How I Made It:" interview by Brian Ketih Jackson & his Wikipedia article)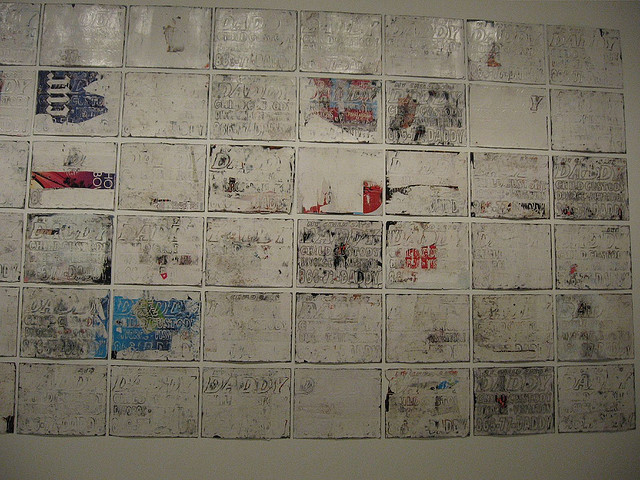 His prose first struck me
I'm using abstraction to talk about the social conditions, but I'm using the tenets, the tools of it. I don't really believe in the sublime of abstraction. … I'm trying to wrench the idea of the sublime out of this thing that has been a part of modernity … a sublime that when you put your bodies together something happens; when people are together there is an energy that happens." [Ed's Note: Text is [sic.] and copied from an exhibition wall at the MCA, but not the Pinocchio-prose that's the first thing you see.]
then it went deeper as my observant little bro noted the text was written over some sort of other painting. Turned out that was a theme of his work. I felt like 2 straight exhibitions of him was a little overkill (exhibition didn't seem to highlight evolutions in style, save certain videos + this bad@$$ b@ll [Ed's note: linked-to image on Wexner Center for the Arts website]), but can't deny throughout I was stuck by his work, particularly strawberry [Ed's note: linked-to image on MCA website].
Besides that, I enjoyed the work of the Japanese duo ____ and ____, as well as Joseph C_____, who sounds almost like Joe Cornelli, who I wrote that paper about paragogy with. It got published in the conference proceedings if you're interested in reading or you can download it by clicking here.
p.s. Found this lovely photographer's blog via the Mark Bradford Project website. Haven't actually read the article, but his photo credits on the bottom of the page are instantly the best I've sen on a blog before. Props Mr. Dawoud Bey.
Photograph (from top): IMG_5342 mark bradford (work is courtesy of the artist and Sikkema Jenkins & Co., New York [sic.]) Copyright © 2008 libby rosof. CC BY 2.0 licensed.
p.s.s. Ashley wisely noted that sometimes its frustrating to have textual explanations next to art, 'cause it keeps you from seeing the painting. I totally agree with her, and at the same time do not know if an artist talking about their own work, e.g. "I DID NOT WRITE 'THE CRUCIBLE' simply to propagandize" [alt. link], is good or bad, but it has consequences.
Corrections & Amplifications
An earlier version of this post did not correctly note that the photo was Creative Commons Attribution licensed. 19:38 on 5 July 2011. Winnetka Public Library.