Diary
Tuesday, July 27th 2010 (Started @ 12:27 AM Wed)
Parent's Basement, Winnetka, IL, USA
Today began again with a doctor's appointment, this one for something growing that I got addressed last summer, but forgot to take all my medication so is still there. Left to drive about 25 minutes before. Should've been a 15 – 18 minute trip, but I took a wrong turn because the map in my head of home territory has slipped a little. Arrived five minutes late, but the nice lady in reception didn't seem to mind.
In the afternoon took a walk with my Dad and then sat down, feeling a little fatigued. Jeffrey came back and served some cheese then next thing I knew I was passed out.
Before dinner and later in the evening I watched a classic episode of the Simpsons from the early days. They are so absurdly clever, and there is usually some sort of moral element or lesson being taught that is nice salt for the humor. Have also been getting more comfortable working in front of the TV, which was difficult for me last week. Watching things like the Simpsons and Maria Bartiromo's interviews on CNBC has made me realize there are things to be learned from television, even if I haven't minded not watching much at all the past two years.
Finally, posted another lesson plan on Wikiversity:
As always, any suggestions or changes are welcome.
As I was meandering around Wikiversity tonight I came to this on "Open Teaching" which linked to a post by Dr. Alec Couros on the topic, which included this image: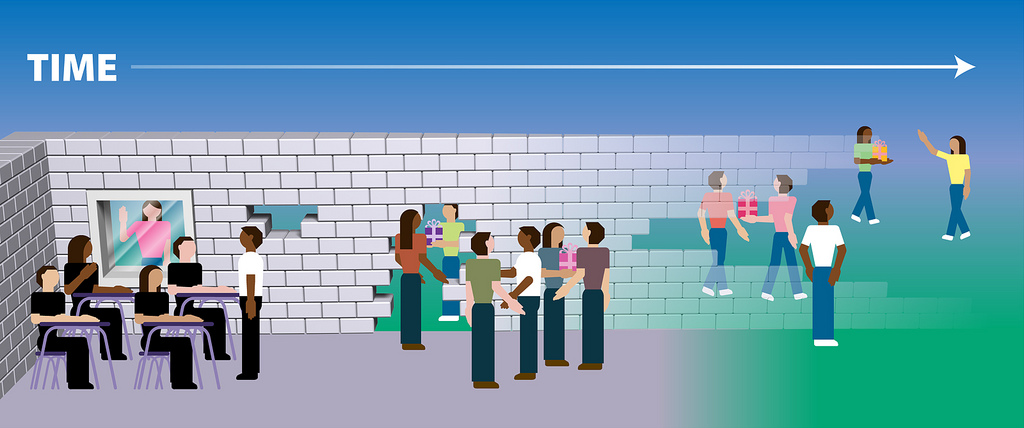 What'd you think?
Image: "Open Teaching – Thinning the Walls" by Courosa on Flickr!, CCA NC SA licensed.