Tonight is a night of celebration for Bulls fans: we landed Marquis Teague with the 29th pick. Teague started at point on NCAA Champion Kentucky Wildcats. I have a soft spot for
young players who fall in draft (Mo Williams went in 2nd Round)
starter pg's on champion teams (Mario Chalmers went in 2nd Round)
freshman point guards who can grow (Rajon Rondo & Jrue Holiday went in the 20s … i also liked fellow 'Cat alum rondo when he was young)
We took very little risk, 29th overall picks are inexpensive and rarely pan out … on a guy who has a legitimate shot developing not at all or into a legit NBA starter.
But my analysis here is purely anecdotal on gut, kinda like the old scouts in Moneyball who disagree with Beane based on ideas in their head of what someone young has that'll lead them into greatness later instead of data … here's a more analytical analysis courtesy of Hoops Analyst's draft expert Ed Weiland:
There have been several college PGs who posted 9+ A40 over the years. The majority of them were never drafted. While it isn't the most important thing for a PG prospect to do, it isn't necessarily a bad thing. Since it would be way too cumbersome to compare every last college PG who finished with an A40 over 9.0, I put up a sampling of all-stars, journeymen and busts for a look at how their numbers compare …
We'll start with a graph of his 2 and 3 point percentage, which place him about middle of the pack.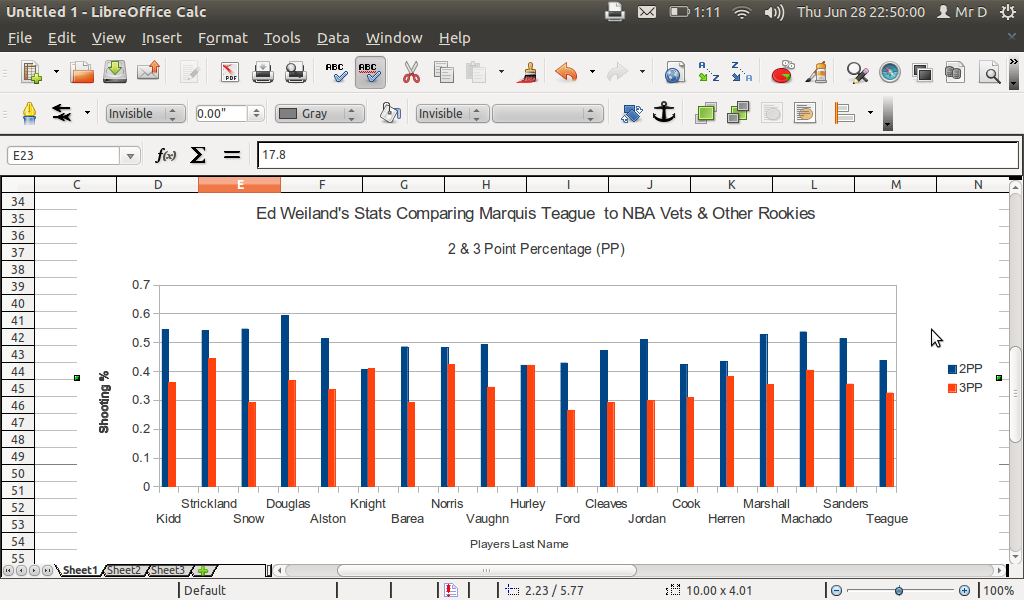 Teague is par for the course with th other pass-first point guards on this list, so data doesn't tell us much save that he has a chance to grow into a dependable guy you can get 20+ minutes a night of good basketball from.
Disclaimer: None of this is to suggest the Bulls are "OK"; they're not: best player out until january may never be MVP caliber again esp. b/c his game depended a lot on athleticism; remainder of the team couldn't beat the Philly 76ers who lost to the Celtics who lost to the Heat AND the Heat will be awesome next year plus the next 2 or 3 (probably) so … the bulls are staring mediocrity right in the face; and you don't play sports professionally to be mediocre … so they're not OK, BUT tonight is a time to celebrate because they got a steal IMHO at the 29th pick: someone who'll contribut this year and has a chance to grow into s respected NBA starter, which would be an amazing thing to have backing-up Derrick Rose going forward … championship teams NEED reserves of the highest caliber (Toni Kukoc, Udonis Haslem, Robert Horry, etc …)